Walking through the Health Sciences Center you may see what looks like an ambulance crew helping an injured person, an operating team with a patient undergoing surgery, or a hospital ward with nurses checking IVs and giving injections.  Perhaps you see a laboratory with technicians researching illnesses, a physical therapy office with assistants teaching mobility techniques, or a dental office where clients are having their teeth cleaned.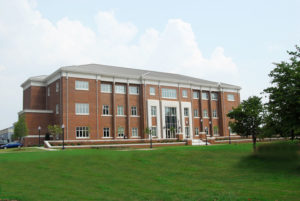 At CCC, health students learn vital knowledge and skills through innovative teaching, state-of-the-art simulation technology, and practical experience through hands-on training at health facilities across the Tennessee Valley.
Enthusiastic, highly qualified, and committed faculty prepare students to meet their career goals and the workforce demands.  All programs are accredited by national and/or state accrediting commissions and prepare graduates to be successful on licensure and certification exams.
Healthcare is one of the largest economic sectors in the US, employing one out of every eight American workers. Education in any health care fields is demanding, but if you are looking for a meaningful career with good employment opportunities in a field where you can make a difference in people's lives, a health science program might be the right choice for you.
For more information on our Nursing and Allied Health programs, click the links below.