The Associate of Applied Science degree in Advanced Manufacturing, with a major in Electrical Technology, will prepare graduates to be an entry-level electrician/electrician's helper. The electrical industry is a career-goaled, lucrative, and rewarding industry that offers many avenues to success. This is a great beginner field for anyone looking to have a career in the electrical field but has little experience. This degree is meant to take someone who knows nothing about electricity and turn them into an employable and trainable electrician.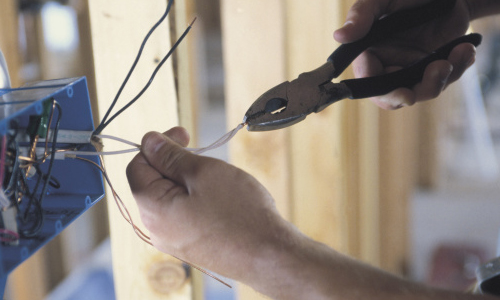 Concepts covered in the major include:
AC/DC theory
wiring methods
conduit bending
NEC codes
fundamentals of programmable logic controllers
distribution systems
Additional fields of interest are maintenance and companies employing multi-craft maintenance personnel for manufacturing and processing plants and Heating, Ventilation and Air-Conditioning (residential, commercial, industrial and maintenance). The degree may be strengthened by adding a few more classes which can provide the opportunity to earn another industrial maintenance degrees.
Degrees
For more Information
Collis Sims
Industrial Systems Technology Instructor
256.306.2588
collis.sims@calhoun.edu
Electrical Technology Careers
Employment opportunities include companies in the fields of electrical construction (residential & commercial), cable TV, power production, instrumentation, and industrial maintenance electrician.
Career opportunities in our area include: Nucor, ICE Electrical Contractors, Goss Electric, and 3M.
The typical base salary range for an Electrical Technician is $37,000 – $64,849; however, a few jobs in our area as an electrical technician have been known to make over $100,000 after overtime. Base salary does not include overtime or benefits.
Check out career data based on the programs below: