The demand for skilled network support professionals continues to grow, and CompTIA Network+ is a valuable credential to help start or enhance a networking career. CompTIA Network+ validates the knowledge and skills of networking professionals. It is an international, vendor-neutral certification that recognizes a technician's ability to describe the features and functions of networking components and to install, configure and troubleshoot basic networking hardware, protocols and services.  The CompTIA Network+ exam will certify that you have competencies in troubleshooting, configuring, and managing common network wireless and wired devices.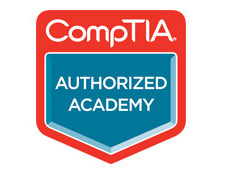 This course is designed for students who have basic understanding of IT concepts, particularly in relation to computer networking infrastructure. This course is an excellent preparation for students who wish not only to be Network+ Certified but who desire to move on toward the higher certifications of CCNA or Security+.
Career Tracks
Help Desk Technician
Network Administrator
Systems Administrator
Systems Architect
Network Security Specialist
Information Security Specialist
Course Info
Cost: $1,295
Course Hours: 50
Dates: November 4, 2019 to December 18, 2019
Days: Mondays and Wednesdays
Times: 6pm to 9:30pm
Location:  Huntsville Campus, Sparkman Building, Room 223
Registration Deadline is October 31, 2019
Refund Policy
Requests for refunds must be made in writing no less than 10 business days prior to the start of class. No refunds will be issued after this date. Send requests for refunds to jennifer.geiger@calhoun.edu. If you do not receive a reply email within 24 hours, please follow up with a phone call to 256-306-2584.
Related Careers
Check out related careers and career data associated with this program: